Ways You Can Save Money When Shopping For Back-To-School Clothes And Supplies For Kids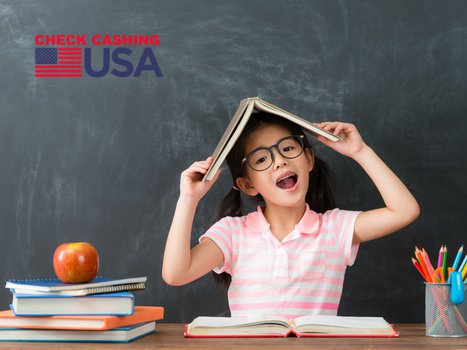 Check Cashing USA, with check cashing locations in Florida, understands that heading back to school can be an exciting and busy time for both parents and children. As much as we want our little ones to look their best as they head back to the classroom, it can come with a hefty price tag. The good news is that there are plenty of ways to save money when shopping for back-to-school clothes and supplies. 
From checking for deals online to browsing for items in thrift stores, there are many ways to get the most bang for your buck. And with the right strategy, you can provide your child with everything they need for the upcoming school year without breaking the bank. Check Cashing USA, with check cashing locations in Florida, presents ways in which you can save money when shopping back to school supplies for your kids. 
Set a Budget
The back-to-school season can be an exciting time for students and parents alike, but it can also put a strain on your wallet if you're not careful. That's why setting a budget is crucial for making wise spending decisions. Determining how much you're willing to spend on back-to-school items gives you a clear guideline for what is and isn't within your means. 
RELATED: How To Budget For A Vacation
This can help you avoid impulse purchases or overspending on non-essential items and ensure that your money goes toward the things that will truly benefit you or your child. So whether you're shopping for new clothes, school supplies, or other necessary items, take the time to set a budget and make the most out of your back-to-school shopping experience.
Shop Sales and Clearance
One of the best ways to save money while shopping for back-to-school essentials is to keep an eye out for sales, discounts, and clearance sections in stores. These promotions can be an excellent opportunity to snag a deal on must-have items like new clothing, backpacks, and school supplies. 
Whether shopping for yourself or your kids, taking advantage of these sales can help you get the most bang for your buck. So when heading to the store, be sure to keep your eyes peeled for those telltale sale signs and clearance racks - you never know what awesome deals you may stumble across.
Make a List
It's that time of year again to get your kids ready for school. Rather than just winging it at the store, create a list of the items they truly need. It can be tempting to buy all the latest gadgets and fancy supplies, but these items are often unnecessary and add to the clutter at home. 
Having a pre-made list lets you stay focused on getting the essentials and avoid the guesswork. Plus, you'll save money by only purchasing what's truly necessary. So sit down with your kids and make a plan for the upcoming school year - it'll save you stress, time, and money in the long run.
Shop Off-Season
If you're looking for ways to save money on your clothing budget, shopping off-season is the way to go. While it may seem counterintuitive to buy summer clothes during the fall or winter clothes during the spring, it's actually a savvy money-saving move. Retailers are eager to get rid of their inventory from the previous season to make room for the new, which means they often offer deep discounts on off-season items. 
You can score some amazing deals on summer dresses, swimsuits, and sandals in the fall or winter and cozy coats, boots, and sweaters in the spring. So, next time your kids require a wardrobe update, consider shopping off-season – your wallet will thank you.
Use Coupons and Promo Codes
Saving money is always a good feeling, and one way to do so is by looking for coupons, promo codes, and digital discounts before making any purchases. With the growth of online shopping, it's easier than ever to find these deals with just a few clicks. 
Before you hit the "checkout" button on your favorite online site or head out to do some in-store shopping, take a few minutes to search for any available discounts. You might be surprised at the amount of money you can save with just a little extra effort. So, why pay full price when you can save a little extra? Start coupon hunting today and see how much you can save.
Buy in Bulk
As the start of the school year approaches, gathering all the necessary supplies for your student can be overwhelming. However, buying in bulk can help alleviate some of the stress - both mentally and financially. If you can swing it, consider purchasing school supplies in bulk, especially for items such as notebooks, pens, and folders. 
With these essentials stocked up, you can have peace of mind knowing your student is prepared for whatever the school year brings. Plus, buying in bulk often means paying less per item - a great way to save money in the long run. So why not consider this cost-effective option and start your school year off on the right foot?
Use Cashback and Rewards Programs
When it comes to saving money, every little bit counts. That's why taking advantage of cashback and rewards programs offered by credit cards and apps is essential. These programs can help you earn money back on purchases you make every day. It's important to note that rewards and cashback rates differ depending on the program you're using, so do your research to find the programs that are best for you. 
Whether you're earning cashback on groceries, gas, or travel, every dollar you earn back is a dollar saved. Don't miss out on these simple and easy ways to save money; start utilizing cashback and rewards programs today.
Check Cashing USA: Check Cashing Locations In Florida
No matter the type of check you have, we are here to help you turn it into cash quickly and easily at one of our many check cashing locations in Florida. Our process is simple: bring your check and a valid photo ID (such as a driver's license, Military ID, or Passport), and we'll do the rest. 
Don't have a photo ID on hand? Not to worry; our team will work with you to find a solution so that you can leave with cash in hand. Our goal is to make the check cashing experience as hassle-free as possible. So why wait? Bring your check to us today, and let us help you get the cash you need.
NEXT: Your Local Solution: Benefits Of Choosing A Payday Loan Near Me