How To Budget For A Vacation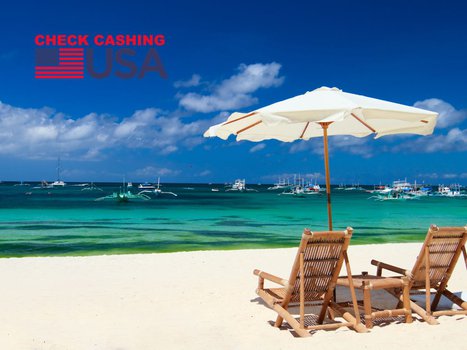 It's summer, and Check Cashing USA, your check cashing store, knows it's time to plan your vacation. For many people, planning a vacation can be both exciting and daunting at the same time. Choosing the perfect destination, finding the best deals on airfare or lodging, and budgeting for all the expenses can quickly become overwhelming. However, with a little bit of organization and planning, your dream trip can become a reality. According to your money transfer service, the key is to establish a sound travel budget. 
Once you determine how much you can afford to spend, you'll be able to make informed decisions about where to go and what to do while on vacation. And don't worry – with a few savvy tips and tricks; you can stretch your budget further and still have a fantastic time. So, whether you're dreaming of a relaxing beach vacation or an adventurous outdoor excursion, start planning now and make your vacation dreams a reality.
Study Your Finances
Taking time to thoroughly examine your finances before embarking on a trip can often be a wise idea. Carefully reviewing your checking account, savings account balances and outstanding debts can give you a good idea of what type of trip makes the most sense for you and your goals. 
Related: Cheap Things To Do And See In Miami
By taking a closer look at your current financial situation, you can put together a rough estimate of how much you can afford to spend on your upcoming adventure. While it may be tempting to go all out on a lavish vacation, examining your finances ahead of time can help ensure that your trip is both enjoyable and financially responsible. After all, the last thing you want is to come home from your trip only to be hit with a pile of unexpected bills and debt to pay off.
Calculate The Biggest Expenses
Traveling can be an exciting adventure, but it can also come with a hefty price tag. Transit and accommodations are the two most significant expenses to consider when planning a trip. We all want to find the most convenient and comfortable options, but these often come at a high cost. 
However, you can save money on these expenses with some flexibility and creativity. Consider alternative modes of transportation, such as renting a car instead of flying or exploring different destination options that are more budget-friendly. Planning ahead and budgeting for these costs can help you make the most of your trip without breaking the bank.
Factor In Other Expenses
You're eagerly anticipating your next vacation and have planned for all your lodging and transportation costs. But have you considered the expenses that may pop up during your getaway? These costs, like meals, activities, and gas, can quickly add up and leave you with an unexpectedly high bill. That's why it's essential to plan for them before you go. 
There are some easy ways to save money on these post-arrival costs. For example, purchasing snacks and breakfast items from a grocery store can significantly reduce food expenses. Additionally, checking out the local eateries during lunch and dinner can make your vacation feel more exciting while keeping things affordable. By preparing prudently, you can have the best vacation without breaking the bank.
Additional Expenses
Planning a trip is exciting, but the costs can add up quickly - especially if you're not aware of all the potential expenses. While you might remember to budget for things like flights and accommodations, there are a number of hidden costs that can catch you off guard. For example, airport and hotel parking fees, checked baggage fees, and resort fees can all add to your bill. 
And remember service tips - especially if you're traveling somewhere where tipping is customary. Finally, figuring out replacements for items you forgot to pack (medicine, toiletries, etc.) can also add to your expenses. By taking the time to consider all of these potential hidden costs in advance, you'll be better prepared to outline a more accurate trip budget - and enjoy your travels without worrying about the bill.
Choose A Destination
The first step in planning your next vacation might seem like the easiest, but there are some important questions to consider before jumping in. You'll want to take into account your budget as you decide on your destination – after all, you don't want to end up overspending and cutting your trip short. It would be best if you also considered whether you'll be planning the trip yourself or enlisting the help of a travel agent, as some destinations might require more planning than others. 
And don't forget about the logistics – will you drive to your destination or fly? Finally, it's worth doing some research on the cities and areas you're considering, as many popular U.S. destinations offer an array of cheap or even free activities. By taking all these factors into account, you'll be able to plan a trip that's both enjoyable and financially feasible.
Discover Great Deals
Are you planning a vacation and trying to save some money? Look no further than the internet for fantastic deals on hotels, amusement park tickets, and airline travel. You can find several websites that cater to budget travelers like you. Check out Google Flights, Groupon Getaways, Tripadvisor, Expedia, and Kayak to score some excellent savings. Keep in mind that it's best to set your budget before you start bargain hunting. 
Once you know what you want to spend, you can focus on specific deals and get a sense of how much you're saving. Plus, finding a great deal can boost your morale and make your trip even more exciting.
Enjoy Your Trip
Do you dread the thought of paying off a vacation long after it's over? Imagine being able to enjoy your well-deserved break without any financial stress when you return. Well, it's possible. 
By planning and budgeting ahead of your trip, you can avoid that dreaded headache. And when you're finally on your vacation, make the most of it! Allow yourself to relax and live it up without any worry about the bill waiting for you back home. So, start planning and budgeting now, and you'll thank yourself later. Bon voyage!
Check Cashing USA: Money Transfer Service
Money transfers play a critical role in the lives of many people around the world. One reason for their importance is that they provide a lifeline to individuals who need financial assistance. Sending money to family and friends who may be in need can be a lifesaver, and money transfers make this process simple and efficient. Moreover, you can use money transfers for a wide range of purposes, including bill payments, online purchases, and charitable donations. This flexibility ensures that individuals can manage their finances in a way that is convenient for them. 
Additionally, money transfer service is essential for people for whom traditional banking services are not readily available. In such cases, the ability to transfer funds quickly and securely can significantly impact people's lives. The importance of money transfers cannot be overstated, as they provide an indispensable service to individuals and communities worldwide. Utilize our Western Union money transfer service at your nearest Check Cashing USA location.