Cheap Things To Do And See In Miami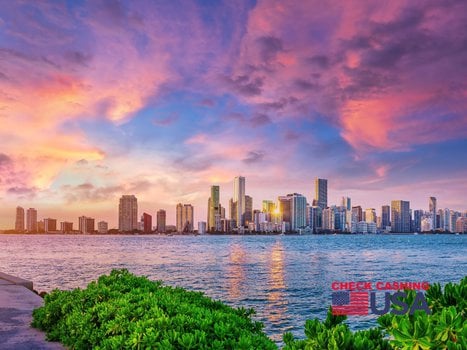 There are check cashing places all over Miami, which is perfect for those who want the convenience of cashing a check while enjoying adventures the city has to offer. Miami and South Beach may be famous for their bustling nightlife, but there's so much more to Florida's iconic city than meets the eye. 
From vibrant Cuban culture and fascinating museums to breathtaking natural wonders and enriching art walks, there's no shortage of things to see and do in Miami. And the best part? Many of these experiences won't break the bank, making them perfect for individuals, couples, and families looking to enjoy the city without sacrificing their budget. Whether you're interested in exploring the city's diverse neighborhoods or soaking up the sun on pristine beaches, Miami truly has something for everyone. So why not discover the Magic City's hidden gems and make unforgettable memories that won't cost you a fortune?
Zoo Miami
Zoo Miami boasts of being home to a vast population of animals, plants, and other species that all together create a sanctuary for wildlife enthusiasts. With over 3,000 animals representing more than 500 different species, visitors can witness the unique characteristics of each inhabitant and the beauty of co-existing with nature. What's even more inspiring about Zoo Miami is its commitment to preserving the habitats and well-being of more than 40 endangered species. 
This dedication to conservation has earned the park accreditation from the Association of Zoos and Aquariums (AZA), a recognition that attests to the outstanding animal health and welfare standards, fundraising activities, zoo staffing, and involvement in conservation initiatives. Additionally, visitors can observe various species in over 100 special exhibits, including trees, palms, and other plants that add to the beauty of this lush environment. But best of all, Zoo Miami is an inexpensive activity that children and adults will enjoy.
Little Havana
Miami's Little Havana is a vibrant and colorful district that truly enlivens the senses. This area is renowned for being one of the world's most famous Cuban enclaves and is the perfect place to immerse yourself in the rich and diverse culture of the Cuban-American and Latino communities. 
At the heart of Little Havana lies Southwest 8th Street, otherwise known as Calle Ocho. This bustling street is lined with countless shops, galleries, delicious restaurants, and cocktail bars and is the perfect destination for an authentic Miami experience. If you're feeling adventurous, why not try a rich and robust Cuban coffee or a perfectly rolled Cuban cigar? And don't miss the Calle Ocho Walk of Fame, where you can discover the incredible stories of the icons and legends that have helped shape this incredible community. Should you need to cash a check before visiting the zoo, we have a convenient check cashing location at 1124 W. Flagler St.
Miami Children's Museum
The Miami Children's Museum (MCM) is a place unlike any other. It's not just another museum but rather a place where children can come to learn, play, and create. The MCM is a non-profit organization dedicated to giving children of all backgrounds access to the tools they need to thrive. There are interactive exhibits, programs, and learning materials on offer that cater to children of all ages, making it the perfect place for a family day out. 
The museum's vision is to be recognized as a premier institution serving children and their families while inspiring kids to learn about themselves and the culturally diverse community they live in through early childhood education, arts, and literacy. It's a magical place that's sure to spark the imagination of all those who visit. And if you need to utilize any of our services, we are located near the museum at 1180 South America Way. 
Wynwood Walls
If you're an art lover and you happen to be in Miami, you definitely don't want to miss out on a visit to Wynwood Walls. This impressive museum features a collection of over 35 stunning murals, all of which are hand-sprayed works of art. Here, you'll find graffiti by some of the most famous names in the street art scene, including the likes of Os Gemeos and many others. 
Whether you're a fan of street art or just appreciate beautiful and captivating artwork, there's something here for everyone. Be sure to bring your camera with you - the photogenic walls are perfect for taking memorable pictures to share with your friends. And after you've explored the museum, don't forget to check out the gift shop for some cool souvenirs to take home with you. The location of this wonderful museum in the heart of the Wynwood Art District means that there's plenty more to explore nearby, including numerous art galleries and the Original Selfie Museum. So, come and explore the vibrant world of Wynwood Walls and immerse yourself in the beauty of contemporary art.
Check Cashing USA: Check Cashing Places
Many of life's milestones require money, and not all of us have that kind of cash on hand. That's where Check Cashing USA comes in. Whether you need to pay your rent, make a car payment, or just need a little extra money to visit some of Miami's great attractions, our financial services can provide quick access to funds. 
Perhaps you're planning an overseas vacation and need to exchange your money for the local currency. Check Cashing USA offers foreign currency exchange at competitive rates. And when it's time to prepare your taxes, we offer rapid refund services so that you can get your return as quickly as possible. With Check Cashing USA's variety of convenient and affordable financial services, you can always feel confident that your everyday financial needs are handled.