Why Small Business Owners Should Consider Utilizing A Check Cashing Store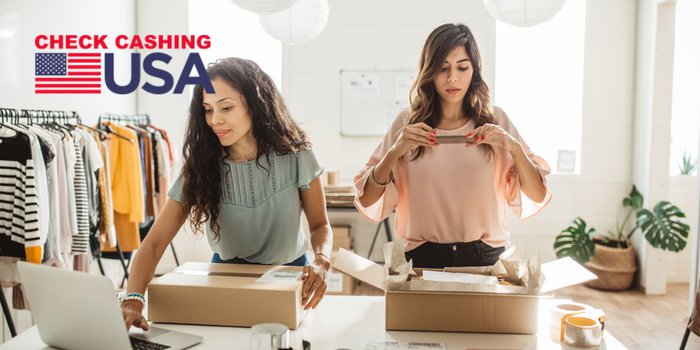 Managing finances is one of the most challenging parts of owning a small business. With limited access to capital, it's essential for small businesses to rely on certain things to remain afloat, such as cutting down on business expenses and maintaining a consistent cash flow. While traditional banks can perform the basic banking needs of most businesses, owners may need to realize that a check cashing store provides additional resources and benefits that are just as important that can save time and money. 
Small businesses should consider utilizing a check cashing store instead of traditional banks for accessing quick cash and saving money in the long run. Typically, they offer more competitive rates than banks and have fewer hidden charges or inconveniences like bouncing checks or credit card transactions being denied due to insufficient funds. Furthermore, they don't require any long-term contracts or commitments like some banks do, so small businesses with limited revenue can benefit from their services without having to worry about being held to an agreement later down the line.
Check Cashing Places VS Banks
A check cashing store offers many benefits over traditional banking institutions, especially when you consider that everyone has different needs and motivations. These establishments provide convenience by being open for longer hours and even on weekends. They typically don't require an account to use their service, meaning customers can take advantage of the rates they offer without having to pay additional bank fees or sign up for additional services they may not need. 
RELATED: Advantages Of An Installment Loan
For those who have obstacles getting a checking account, such as bad credit or no ID, these stores provide them with all the services they need without an extensive background check. Furthermore, they don't require identification documents or a social security number like a traditional bank would. In addition, check cashing businesses often specialize in other services such as debit and prepaid cards, money orders, wire transfers, bill payments, and more. These much-needed advantages make it easy for people to access what they need quickly, whether it's sending money overseas, transferring funds from one account to another, or just cashing standard checks on the spot.
Easy Access To Funds
Cash flow is the cornerstone of any small business. When cash is tight, it can be difficult to pay the people and businesses you owe money to - leading to a snowball effect that leaves your business in distress. 
Many traditional banks have stringent requirements, which can be frustrating when fast access to funds is required in emergencies. Thankfully, check cashing places provide a way for you to access those hard-earned funds quickly and easily, without the hassle and wait times associated with the big banks. From cashing paychecks and income tax refunds to sending or receiving money orders, check cashing places ensure your small business keeps running smoothly and efficiently.
Up Front And Honest
Although your business may be drawn to traditional banks for their convenience, their fees can add up quickly and leave a bad taste in your mouth. While some fees are easy to spot, the most costly ones are often hidden away in the fine print. 
A better alternative is to use check cashing stores. Not only will you have peace of mind that there won't be any hidden fees at the end of your transaction, but they are also upfront and transparent, so you know exactly what you're getting without having to read through lengthy disclaimers or small print. Doing your business finances with a check cashing store could save you money in the long run.
Customer Service
Automating processes is undoubtedly a more efficient way of doing things; however, when it comes to managing your finances and making sure you are securing the best options for yourself, having an experienced person to look over everything and give sound advice is invaluable. 
Check Cashing USA is at the forefront of enabling customers an interactive experience with friendly and knowledgeable staff on hand to assist you through the different components of your financial transaction. Human interaction can provide customers with comfort in what can often be a daunting financial situation. They also have the experience needed to guide customers through their options and highlight potential routes that are conducive to getting the most out of their money.
Small Fee VS Hefty Fees
When it comes to cashing a business check, there is often the choice between check cashing stores or traditional banks. At first glance, it may seem like paying a small fee to cash at a check cashing store costs more; however, this isn't necessarily true. 
Banks are notorious for charging a variety of fees, even if they offer free business accounts. What'sWhat's more, you might have to wait several days and accept slower processing times if you elect to deposit your check into your traditional bank. Check cashing stores can provide swiftness and convenience by serving as an efficient medium for instant payments without any delays. 
Small Business And Check Cashing USA
Check Cashing USA is an established financial institution that provides business customers with short-term cash solutions and great customer service. With our many locations conveniently located throughout South Florida, getting quick access to your hard-earned money is easier than ever before. So if you need a fast and reliable solution for your business cash needs, don't hesitate to call or come by one of our locations today. 
The friendly and helpful staff at Check Cashing USA are committed to providing you with the best customer experience possible while finding the perfect solution for your finances. Offering simple and straightforward financial services at affordable rates, Check Cashing USA is the ideal choice when it comes to accessing your business's money quickly and easily.
NEXT: The Difference Between An Installment Loans And A Payday Loan