What Do I Need To Get A Payday Loan?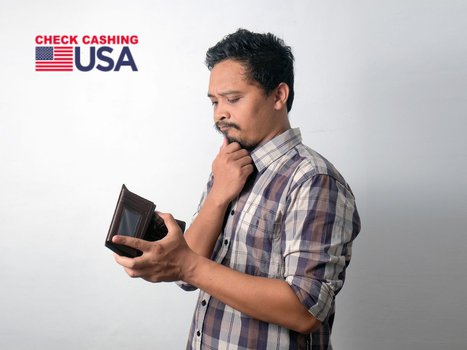 At some point in life, we all find ourselves in a situation where a sudden financial need arises, and we are left wondering, what do I need to get a payday loan? This is where a payday loan comes in handy. However, before rushing out to obtain one, knowing the necessary requirements is important. 
You only need a few things at Check Cashing USA when applying for a payday loan. In this article, we will explore what you need and the step-by-step process of obtaining a payday loan. So, whether you need to pay for emergency car repairs, unexpected medical bills, or to settle any other expense, we've got you covered. Read on to find out what you need to get a payday loan.
Why Do You Need A Payday Loan?
Securing a payday loan can provide a quick and convenient solution in certain financial situations. One common reason individuals consider payday loans is to address unexpected and urgent expenses, such as medical bills or car repairs. Life is unpredictable, and when faced with sudden financial challenges, a payday loan can offer immediate relief, helping you cover these unexpected costs until your next paycheck arrives.
RELATED: How Fast Payday Loans Can Help You Avoid Late Fees, Penalties, And Other Setbacks
Another circumstance where a payday loan might be necessary is to bridge the gap between paychecks. Suppose you find yourself short on funds before your next payday and need to cover essential expenses like rent or utilities. In that case, a payday loan can provide the necessary cash infusion to meet these immediate financial obligations. It acts as a short-term financial tool, offering a temporary solution to tide you over until you receive your regular income. It's important, however, to approach payday loans responsibly, borrowing only what you need and ensuring that you can repay the loan on time to avoid excessive fees and interest charges.
What Do I Need To Get A Payday Loan?
Government-Issued ID
For anyone living paycheck to paycheck, unexpected expenses can quickly become overwhelming. That's where Check Cashing USA comes in - we offer payday loans to help you cover your costs when you can't wait until payday. To get a loan from us, you'll need to bring a few items with you to one of our convenient locations throughout Miami. 
One of these items will be a government-issued ID, such as a driver's license, passport, or military ID. We understand that life can be unpredictable, but with Check Cashing USA, you can feel confident knowing you have options when it comes to managing unforeseen expenses.
Government-issued IDs are official documents that government authorities provide to verify an individual's identity. Common examples include:
Driver's License: A government-issued document allowing an individual to operate a vehicle.
Passport: An internationally recognized travel document that verifies a person's identity and citizenship.
State ID Card: Similar to a driver's license but without driving privileges, it's issued by state authorities.
Green Card (Permanent Resident Card): Issued by U.S. Citizenship and Immigration Services to lawful permanent residents of the United States.
Tribal IDs: Issued by recognized Native American tribes, serving as proof of tribal citizenship.
Proof Of Income/ Social Security Card/ Bank Statement
Getting a payday loan can be a quick and easy way to access the funds you need, and Check Cashing USA is here to help. With 36 convenient locations in and around Miami, we make it easy for you to get the cash you need when you need it. To apply for a payday loan, all you need to bring is your latest checking account statement, social security card, and your most recent proof of income. 
This could include pay stubs, tax returns, or social security statements. Our friendly staff will assist you with the application process and help you get the money you need in no time.
Proof of income is crucial in various financial and legal situations. Here are several documents commonly used as proof of income or proof of a consistent and verifiable income:
Pay Stubs: Regular pay stubs issued by your employer that detail your earnings, deductions, and net pay.
Tax Returns: Copies of your filed tax returns, including W-2 or 1099 forms.
Employment Verification Letter: A letter from your employer confirming your employment, income, and other relevant details.
Bank Statements: Statements showing regular deposits and transactions can serve as evidence of income.
Social Security Statements: For those receiving Social Security benefits, statements showing the amount received.
Rental or Real Estate Income: Documentation of income from rental properties or real estate holdings.
Alimony or Child Support Payments: Legal documents or payment receipts indicating regular support payments received.
Freelance or Self-Employment Documents: Invoices, contracts, or financial statements for those who work freelance or are self-employed.
Pension Statements: Statements detailing income received from a pension plan.
Investment Income: Statements from investment accounts showing dividends, interest, or other income.
Government Assistance Documents: If you receive government assistance, documents indicating the amount received can be used.
Court-Ordered Agreements: Documents outlining court-ordered spousal support, alimony, or child support.
Our Payday Loan Process
Accessing a payday loan with Check Cashing USA is a straightforward process designed for convenience and efficiency. You can initiate the application either online or by visiting one of our 36 physical locations. This flexibility ensures that you can choose the method that suits your preferences and schedule. Once you've selected your preferred mode of application, the following steps are simple and can be completed swiftly.
Upon reaching the nearest Check Cashing USA store, you'll be required to write a personal check for the loan amount plus the associated fee. This check serves as both collateral and an agreement for repayment. The efficient process ensures that you can receive your payday loan in a matter of minutes. The simplicity of this approach is complemented by our commitment to holding the check securely until your scheduled due date.
When the due date arrives, you return to the store to repay the payday loan in cash, reclaiming your personal check. This clear and transparent process allows you to access the financial assistance you need promptly while offering a straightforward mechanism for repayment. Check Cashing USA prioritizes simplicity and convenience to make your payday loan experience hassle-free.
Check Cashing USA: What Do I Need To Get A Payday Loan?
Getting access to quick cash when you need it can be a challenging and frustrating process, but with Check Cashing USA, you can have the money you need in your hands within minutes. Our in-store approval process is designed to eliminate the need for lengthy applications and waiting periods so you can get your money without any delays. 
Whether you have an unexpected emergency or an unplanned expense, we understand that time is of the essence. That's why we've made it easy for you to get the money you need when you need it. Take the first step towards financial peace of mind and visit Check Cashing USA for fast and easy money today. When wondering what do I need to get a payday loan, know that we are here to help.